AFRICAN HEADS
of State and Governments
ECONOMIC COMMUNITIES & AFRICA REGIONAL BODIES:
JAPAN AFRICA NETWORK'S TOP 10 DESTINATIONS:
Serengeti National Park (the great migration), Tanzania
Kruger National Park, South Africa
Pyramids, Giza Egypt
Rift Valley Lakes, Kenya.
Kalahari Desert, Botswana
Karnak Temple, Egypt
Table Mountain, S. A.
Atlas Mountain, Algeria
Djoudj National Park, Senegal
Goree Island, Senegal
CONTACT US: E-Mail!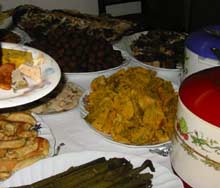 This page introduces various kinds of African foods, where to eat in Japan and also where to buy. In the future we shall be bringing some recipes for those who might be interested in cooking at home.
Buy African food: POUNDED YAM
Restaurants
Address
Menu

DUB CITY Bar & Restaurant


7-59-2 Nishi-Kamata, Ota-ku, Tokyo
Contact: Barry
Phone: 03-3733-7499
Reggae Bar with African touch.
Business Hrs:
Sun-Sat 20:00 ~ 04:00
Note: African food by Reservation Only.

Queen Sheba Ethiopian Restaurant


Neoage Nakameguro B1,
1-3-1 Higashiyama, Meguro-ku, Tokyo
Tel: 03-3794-1801
Contact: Mr. Solomon
URL: http://welcome.to/bluenile
Business Hrs:
Daily 17:00 ~ 23:00
Main: Ethiopian Foods, African Foods, 60s Music, Party and others

African Restaurant: CALABASH


Hamamatsucho Bldg. B1F,
2-10-1 Hamamatsucho,
Minato-ku, Tokyo
Tel: 03-3433-0884
Contact: info@calabash.co.jp
URL: http://www.calabash.co.jp
Business Hrs:
Daily: 11:30 ~ 14:00,
18:00 ~ 23:00
Main: Ethnic African Foods, Drinks, Music, Party, Video,
Africa nights, etc

Royal Foods(Nigerian Kitchen)


5-16-5; 1st Floor B1,
Imperial Roppongi Forum, Roppongi, Tokyo
Tel: 03-3584-5066
Contact: Mr. Ojo Omoyemwen

Business Hrs:
Daily 18:00 ~ Finish
Main: Nigerian Foods, Drinks, Music, Party and others

African Bar & Restaurant esogie


Muraki Bldg. 3F, 3-11-2 Shinjuku, Shinjuku-ku, Tokyo
Tel: 03-3353-3334
E-mail: isiwe@mb.point.ne.jp
URL: http://www4.point.ne.jp/~esogie
Business Hrs:
Mon, Tue, Thu 18:00~00:00,
Fri, Sat 18:00~04:00,
Sun 18:00~23:00
Holidays: Wednesdays
Main: Nigerian Foods, African Music

Africa Tairiku


Office-One BLDG. B-103,
2-13-4 Kichijoji-Minamicho,
Musashino-shi, Tokyo
Tel: 0422-49-7302,
090-1735-9077
URL: http://www.yashizake.com
Business Hrs:
Sun. ~ Sat 18:30~02:00,
Main: Various African Foods, Music, drinks, party

Ashanti Restaurant


50-2 Nishidaimarucho,
Ukyo-ku, Kyoto
Tel: (075)311-4520 Fx: (075)311-7019
E-mail: info@ashantirestaurant.com
URL: http://www.ashantirestaurant.com
Business Hrs:
Lunch: 11:00 ~ 14:00
Dinner: 17:00 ~23:00
sundays: Dinner only
Closed: Mondays.
Main: African/Ghana Foods and cuisines, drinks, party.

MAR-VIS KITCHEN & BAR


Keita Bldg 5F,
1-39-20 Higashi Ikebukuro,
Toshimaku, Tokyo
Tel/Fax: 03-3986-0905
E-mail: marviskitchen@yahoo.com
Business Hrs:
Daily: 17:00 ~ 05:00
Main: African Foods and cuisines, drinks, party and events

BAR PEGASUS


6F Oranda Bldg,
7-27-16 Minami Koiwa,
Edogawa-ku, Tokyo
Tel/Fax: 03-5668-2420
URL: http://www.barpegasus.com
Business Hrs:
Daily: 17:00 ~ 05:00
Main: African Foods and cuisines, drinks, party and events