NGO Africa Japan Forum Booth at the "African Festa 2007".
AFRICAN HEADS
of State and Governments
ECONOMIC COMMUNITIES & AFRICA REGIONAL BODIES:
JAPAN AFRICA NETWORK'S TOP 10 DESTINATIONS:
Serengeti National Park (the great migration), Tanzania
Kruger National Park, South Africa
Pyramids, Giza Egypt
Rift Valley Lakes, Kenya.
Kalahari Desert, Botswana
Karnak Temple, Egypt
Table Mountain, S. A.
Atlas Mountain, Algeria
Djoudj National Park, Senegal
Goree Island, Senegal
CONTACT US: E-Mail!
NGO - Africa Japan Forum Booth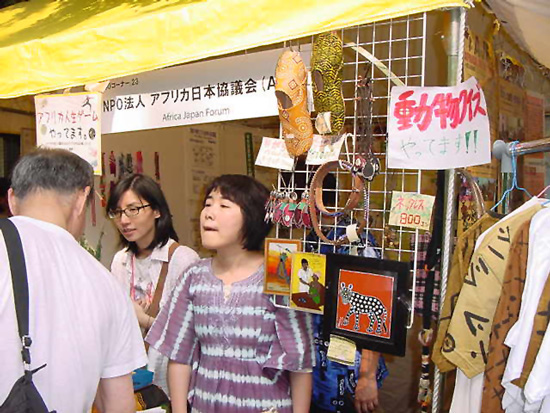 Africa Japan Forum (AJF) is one of the most active NGOs working on Africa in Japan. Part of their activities include but not limited to coordinating Japanese NGOs/CSOs addressing African issues, relating with local NGOs in Africa, supporting African communities in Japan and holding monthly event "Africa Horiba meaning African Square" to help enlighten Japanese people and help foster better understanding of African issues. Recently, they started publishing a quarterly magazine "Africa Now" which discusses African Matters.