NPO - Japan Wildlife Conservation Society at African Festa 2007.
News | Business | Tourism | African Foods | Photos | African Music | Visa | African Embassies in Japan | Japan Embassies in Africa
AFRICAN HEADS
of State and Governments
ECONOMIC COMMUNITIES & AFRICA REGIONAL BODIES:
JAPAN AFRICA NETWORK'S TOP 10 DESTINATIONS:
Serengeti National Park (the great migration), Tanzania
Kruger National Park, South Africa
Pyramids, Giza Egypt
Rift Valley Lakes, Kenya.
Kalahari Desert, Botswana
Karnak Temple, Egypt
Table Mountain, S. A.
Atlas Mountain, Algeria
Djoudj National Park, Senegal
Goree Island, Senegal
CONTACT US: E-Mail!
NPO - Japan Wildlife Conservation Society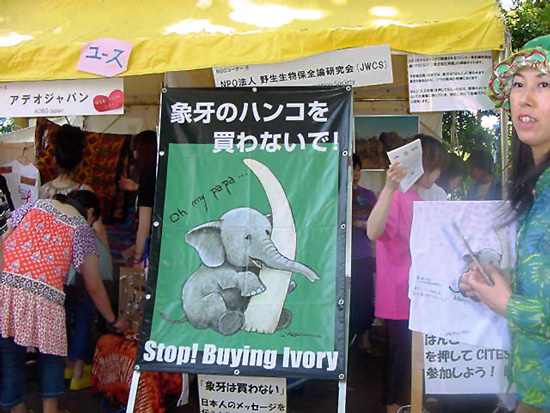 The non profit organization Japan Wildlife Conservation Society took their campaign to the last African Festa 2007 held at Hibiya Koen on the 19th and 20th of May with this giant poster. It shows a baby African elephant whose father had already been killed by poachers, holding on to the father's tusk crying "Oh my papa....". The poster ends with a warning to buyers of elephant parts to "STOP BUYING IVORY" for that is the only way to put the poachers out of business.