NGO - TICAD Civil Society Forum at African Festa 2007.
News | Business | Tourism | African Foods | Photos | African Music | Visa | African Embassies in Japan | Japan Embassies in Africa
AFRICAN HEADS
of State and Governments
ECONOMIC COMMUNITIES & AFRICA REGIONAL BODIES:
JAPAN AFRICA NETWORK'S TOP 10 DESTINATIONS:
Serengeti National Park (the great migration), Tanzania
Kruger National Park, South Africa
Pyramids, Giza Egypt
Rift Valley Lakes, Kenya.
Kalahari Desert, Botswana
Karnak Temple, Egypt
Table Mountain, S. A.
Atlas Mountain, Algeria
Djoudj National Park, Senegal
Goree Island, Senegal
CONTACT US: E-Mail!
NGO - TICAD Civil Society Forum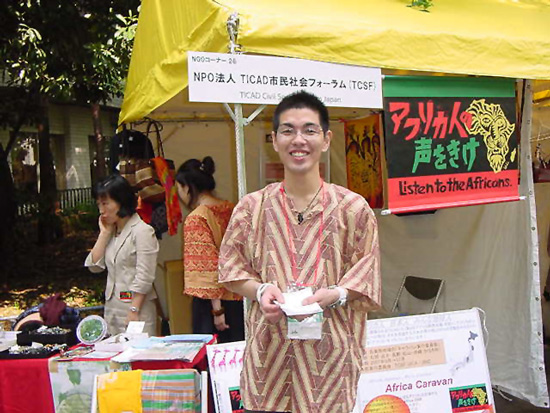 A volunteer at TICAD Civil Society Forum (TICAD CSF or TCSF) during the African Festa 2007. The NGO TCSF was formed during TICAD III in 2003, and their "mission is to implement a development process led by African people and to map out action plans for improving the living standards of African people" among other very impressive goals.
Their theme for the next TICAD IV is "Listen to the Africans"

TICAD means Tokyo International Conference for African Development. Established in 1993 to among other things "promote high-level policy dialogue between African leaders and development partners.... In 2003, the third conference (TICAD III) made an explicit commitment for the TICAD Initiative to support the African Union's New Partnership for Africa's Development, a blueprint for Africa's peace and socio-economic growth and development. TICAD III was held in Tokyo with high-level participation of African leaders, including 23 heads of State, and 10 heads of international organizations. It was heralded as one of the largest international conferences on African development".