Nigerian Food at the "African Festa 2007".
AFRICAN HEADS
of State and Governments
ECONOMIC COMMUNITIES & AFRICA REGIONAL BODIES:
JAPAN AFRICA NETWORK'S TOP 10 DESTINATIONS:
Serengeti National Park (the great migration), Tanzania
Kruger National Park, South Africa
Pyramids, Giza Egypt
Rift Valley Lakes, Kenya.
Kalahari Desert, Botswana
Karnak Temple, Egypt
Table Mountain, S. A.
Atlas Mountain, Algeria
Djoudj National Park, Senegal
Goree Island, Senegal
CONTACT US: E-Mail!
Nigerian Foods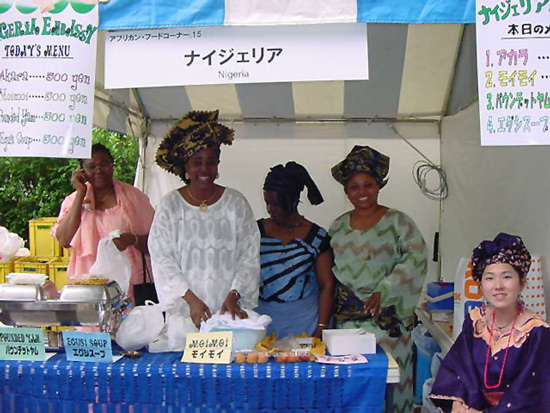 Nigerian diplomats' wives offer Nigerian foods to guests at the Nigerian booth during the African Festa 2007 held on May 19th and 20th, 2007 at Hibiya park in Tokyo. On display was akara, moimoi, pounded yam with egusi soup and Star beer to wash it down. It was so popular, everywhere you look people were drinking star beer and unfortunately for me, before I finished my rounds to settle down to some Nigeria food and drinks everything was sold-out.