Nyama Kante at "African Festa 2007".
AFRICAN HEADS
of State and Governments
ECONOMIC COMMUNITIES & AFRICA REGIONAL BODIES:
JAPAN AFRICA NETWORK'S TOP 10 DESTINATIONS:
Serengeti National Park (the great migration), Tanzania
Kruger National Park, South Africa
Pyramids, Giza Egypt
Rift Valley Lakes, Kenya.
Kalahari Desert, Botswana
Karnak Temple, Egypt
Table Mountain, S. A.
Atlas Mountain, Algeria
Djoudj National Park, Senegal
Goree Island, Senegal
CONTACT US: E-Mail!
African Dance: Nyama Kante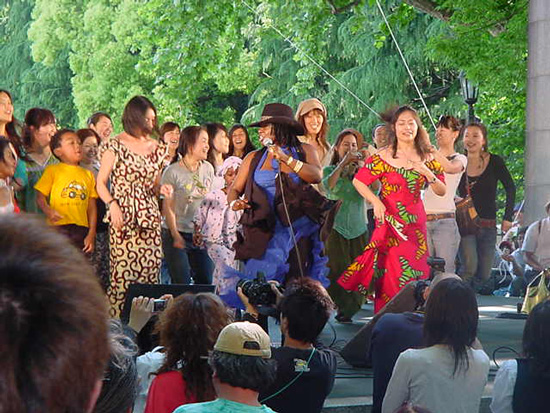 Nyama Kante of Cote d'Ivoire performs on the main Stage May 20, 2007. This was one of the most entertaining shows of the festival. Here she invites some young ladies to join her on stage to dance to her African beats. She was so forceful on stage that she reminds me of the late James Brown, everybody loved her performance.