AFRICAN ART AND CRAFTS INCLUDING MASKS AND MASQUERADES
News | Business | Tourism | African Foods | Photos | African Music | Visa | African Embassies in Japan | Japan Embassies in Africa
AFRICAN HEADS
of State and Governments
ECONOMIC COMMUNITIES & AFRICA REGIONAL BODIES:
JAPAN AFRICA NETWORK'S TOP 10 DESTINATIONS:
Serengeti National Park (the great migration), Tanzania
Kruger National Park, South Africa
Pyramids, Giza Egypt
Rift Valley Lakes, Kenya.
Kalahari Desert, Botswana
Karnak Temple, Egypt
Table Mountain, S. A.
Atlas Mountain, Algeria
Djoudj National Park, Senegal
Goree Island, Senegal
CONTACT US: E-Mail!
African Art and crafts, Masks and Masquerades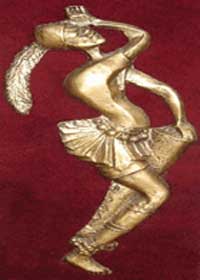 The African art and craft is rich and divers, it is a very important part of the African heritage which has been passed on from generation to generations. The African art and crafts includes: wood carvings, paintings, masks and masquerades, statues, bronze and stone works, clothings including batiks, weavings, tie and dye, beads, trinkets and bracelets; leather art works, home decor and kitchen wares, etc. The history of African art and craft dates back to early civilizations. On this page we shall try to present information on African arts, culture and crafts from various areas; from African west to east, African north to south, central Africa and all the areas inbetween.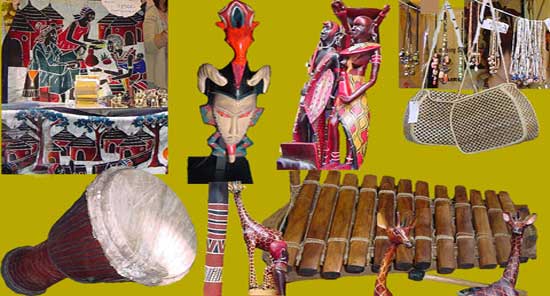 African Masks and Masquerades.
Masks and masquerades are an integral part of the African history of art and culture. For many generations, it has served not only as a means of cultural identity for the African people; masks and masquerades are big cultural celebrations and great social events. The African masks and masquerades are also known to be a cultural means of communication among the peoples of Africa and are used to create cultural harmony and even social controls in various African communities.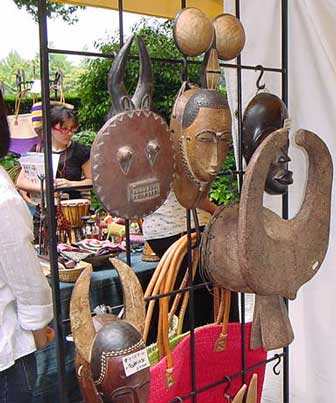 The African mask and masquerades are often very colourful, accompanied with drumming, singing, exotic dances and incantations, they are even believed to bring alive the spirit of the dead(ancestors). These cultural celebrations in masks and masquerades are performed at different times, seasons and periods of the year in various African communities for different reasons and purposes ranging from new yam festivals, new year events, beginning and ending of a farming seasons, harvests and thanksgivings to deaths, marriages, outing ceremonies for their wives and new born babies and coming of age to mention just a few. The African mask and masquerades are also sometimes performed or displayed by the young and old to show their newly acquired dance steps and newly carved masks.
Some masks and masquerades are unique to different parts of Africa. It is always a thing of joy to watch these cultural dances and displays of African ancient and/or modern masks and masquerades. And it is therefore my pleasure to present to you the African art and crafts including the masks and masquerades.
| Face Mask | Framed on Canvass | Wood Carvings | Plastic Carvings |
| --- | --- | --- | --- |
| | | | |
| Face mask Congo D.R. | Head, Queen of Benin | African Home Decor | African Accessory |
| Country: Congo, DR | Country: Nigeria | Country:West Africa | Country:East Africa |
| Buy: E-Mail! | Buy: E-Mail! | Buy: E-Mail! | Buy: E-Mail! |