African Music - Djeli Moussa Diawara Concert at the "African Festa 2007".
AFRICAN HEADS
of State and Governments
ECONOMIC COMMUNITIES & AFRICA REGIONAL BODIES:
JAPAN AFRICA NETWORK'S TOP 10 DESTINATIONS:
Serengeti National Park (the great migration), Tanzania
Kruger National Park, South Africa
Pyramids, Giza Egypt
Rift Valley Lakes, Kenya.
Kalahari Desert, Botswana
Karnak Temple, Egypt
Table Mountain, S. A.
Atlas Mountain, Algeria
Djoudj National Park, Senegal
Goree Island, Senegal
CONTACT US: E-Mail!
African Music: Djeli Moussa Diawara Playing the Kora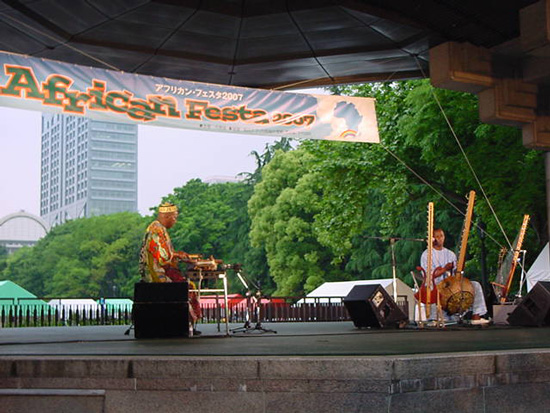 On main stage, Djeli Moussa Diawara performs with traditional musical instrument, Kora at the African Festa May 19th and 20th, 2007. This festival jointly organised by the Japan Ministry of Foreign Affairs, NGOs and the African diplomatic community has become an annual event in Japan.