AFRICAN HEADS
of State and Governments
ECONOMIC COMMUNITIES & AFRICA REGIONAL BODIES:
JAPAN AFRICA NETWORK'S TOP 10 DESTINATIONS:
Serengeti National Park (the great migration), Tanzania
Kruger National Park, South Africa
Pyramids, Giza Egypt
Rift Valley Lakes, Kenya.
Kalahari Desert, Botswana
Karnak Temple, Egypt
Table Mountain, S. A.
Atlas Mountain, Algeria
Djoudj National Park, Senegal
Goree Island, Senegal
CONTACT US: E-Mail!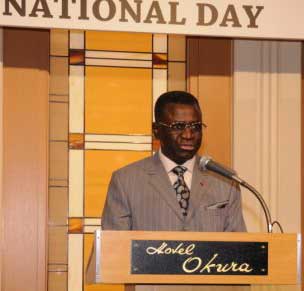 André Panzo Angolan Chargé d'Affaires, Japan
Our Country of the month of November 2009 is Angola.
After independence from Portugal in 1975, Angola soon fell into a protracted civil war which lasted until 2002 when Jonas Savimbi, the rebel UNITAS leader was killed. Producing about 1.91 million barrels of crude oil per day and with the global dependence on crude petroleum and gas, Angola has since transformed its economy to be one of Africa's best and one of the fastest growing economies in the world. Driven mainly by oil exports which accounts for about 85% of gross national income, Angola recorded an economic growth rate of 18% in 2005, 26% in 2006, 17.6% in 2007 with forcast for a continuous double digit growth for the rest of the decade. This growth has turned Angola into an economic powerhouse, a business/investment haven and a big tourist destination in Africa. Read Angolan Independence Day Address below.
ANGOLA - Working hard for a better, brighter future
By: André Panzo, Chargé d'Affaires, a.i. of the Republic of Angola to Japan.
Today, November 11, we celebrate the 34th anniversary of the Republic of Angola as a sovereign country. It is indeed an occasion of joy and pride for all Angolans and friends of Angola as it marks the end of centuries lasting colonial rule.
On this auspicious and unparallel occasion it gives me great pleasure and honour to extend, on behalf of His Excellency Mr. José Eduardo dos Santos, President of the Republic of Angola, the People and the Government of Angola, our best wishes for peace, good health and prosperity to Their Imperial Majesties Emperor Akihito and Empress Michiko, members of the Imperial Family, the government and the friendly people of Japan.
In the same token, I use the opportunity to congratulate Their Majesties Emperor and Empress on their golden wedding anniversary, wishing them good health and every success in all their undertakings.
Political stability and social development:
The Angolan people achieved peace just over seven years ago, time during which decisive steps have been taken to consolidate peace, strengthen democracy and national unity.
The results of the legislative elections held in September last year, overwhelmingly won by MPLA, have clearly shown and confirmed the Angolan peoplefs confidence in the Governmentfs efforts to rebuild the country and consolidate the cohesion among the Angolans. In the other hand, we believe that the increase in FDI inflow and the growing interest of the world economy towards Angola are also the result of the ever greater credibility gained by the Government through its arduous work.
As many other developing nations, Angola is still confronted with many challenges in its future development. Internally it is committed to meet the development aspirations of its citizens in various areas such as the consolidation of social peace and stability, national reconciliation, poverty reduction, infrastructure development amongst others.
In this context, seven years after bringing to an end the long lasting war which ravaged and destroyed the country's main infrastructure, the Angolan Government and its hardworking people are fully committed to work towards the achievement of many goals resulting from the task of rebuilding the country's social network,....