AFRICAN HEADS
of State and Governments
ECONOMIC COMMUNITIES & AFRICA REGIONAL BODIES:
JAPAN AFRICA NETWORK'S TOP 10 DESTINATIONS:
Serengeti National Park (the great migration), Tanzania
Kruger National Park, South Africa
Pyramids, Giza Egypt
Rift Valley Lakes, Kenya.
Kalahari Desert, Botswana
Karnak Temple, Egypt
Table Mountain, S. A.
Atlas Mountain, Algeria
Djoudj National Park, Senegal
Goree Island, Senegal
CONTACT US: E-Mail!

Flag of Libya
Country Focus for March 2011: Libya
Our country focus for March 2011 is on Libya, one of the richest countries in Africa. Libya has a very long history which can be divided into: Ancient Libya - periods before 146 BCE, Roman Libya - 146 BCE to 670 CE, Islamic Tripolitania and Cyrenaica - 670 CE to 1551, Ottoman Libya - 1551 to 1911, Italian colony 1911 to 1934, Italian Libya - 1934 to 1943, Allied Libya - 1943 to 1951, kingdom of Libya - 1951 to 1969 and Libya under Gaddafi Libya 1969 - date. Libya quickly transformed from a poor country to a very rich country with the discovery of crude petroleum and natural gas deposits over 50 years ago
Read: Of Libya, Col. Muammar Ghaddafi and Libyans.

Country Focus for February 2011: Egypt


Modern Egypt which celebrates 89th independence from Britain on 28th of January. Egypt is one of the most important countries in Africa and the middle East, known mostly for its ancient civilization, archaeological sites and tourism centered around the Great Pyramids of Giza and the Sphinx.

Official name:

Arab Republic Egypt (Short: Egypt)

Location:

Northern Africa, bordered by the Mediteranean sea to the north; Gaza strip, Israel and the Red Sea to the east, Sudan to the south and Libya to the west. Coordinates: 27 00 N, 30 00 E

Size:

1.01 million sq km (390,000 sq miles)

Establishment:

1867 (Ancient Egypt was founded about 3200 BC)

Capital City:

Cairo

Indendence:

28 February 1922. (from Britain)

Population:

80,471,869 (July 2010 est)
Egypt is going through a popular uprising at the moment. This revolt started January 29th spurred by the success of a similar citizen revolt in Tunisia, another north African country. Citizens are united by deep frustrations with the government of President Hosni Mubarak. They are demanding an end to corruption and abuses by government officials. Poor and unemployed youths, organised by social network activists using Facebook and Twitter are demanding the government reforms and resigns. They have been joined by other citizens including Nobel prize winner and former IAEA chief Mohamed Al Baradei and the banned opposition Muslem Brotherhood Party. Success so far includes the sacking of Mubarak cabinet, appointment of the first ever vice president in the 30 year administration and a promise to reform. Protesters are however angered by these offers as too little too late. They just want President Mubarak to pack and leave.

Update


Today 12 February 2011, after 18 days of massive street protests in major cities from Tahrir(Liberation) square in Cairo to Alexandria, Egyptian President Hosni Mubarak finally resigns, handing power to the military. Learn more about: Egypt

Kenya: Our country of the Month, December 2010
Japan Africa Network joins all Kenyan friends, wellwishers and all Africans in diaspora to celebrate 47 years of nationhood. We join others to say 'Congratulations on your 47th independence and national day celebration'. Today we celebrate all the heroes who fought and won independence for Kenya, many who lost their lives in the bitter struggles for freedom and liberation, congratulations, you are Japan Africa Network's, Country of the Month December 2010.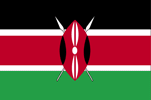 Kenyan National Flag
Brief History: Kenya became a republic on 12 December 1963 after many years of fighting with the colonialists. One of the most notable was the Mau Mau Rebellion 1952 to 1960; an insurgency by Kenyan peasants against the white settlers and British colonialist rule. The bulk were mostly people of Kikuyu ethnic tribe with support of a few Embu and Meru tribemen. It followed several peaceful attempts to settle the vexed issue of land appropriation, were by 1948; 1,250,000 Kikuyu were restricted to about 2,000 square miles(5,200 sq.km) while 30,000 British settlers occupied 12,000 square miles (31,000 sq.km.) mostly in the most agricultural desirable lands. Every attempt at settlement was either ignored or ridiculed, the Kikuyu were allowed to farm only as tenant farmers with no right to the land they worked and later made to work only as day laborers on a land they once called home. This led to the militant revolt variously referred to as Mau Mau revolt, Mau Mau Uprising, Mau Mau Revolution or the "Kenya Emergency". Though this revolution finally failed militarily, it hastened the independence of Kenya and encouraged/motivated people in other African countries to fight against colonial rule. Jomo KENYATTA, a liberation icon and member Kenya African National Union (KANU) led Kenya to independence in 1963 as the President and ruled until his death in 1978. He was succeeded by President Daniel Toroitich arap MOI 1978 to 2002. President Moi stepped down following fair and peaceful elections and was succeeded by President Mwai KIBAKI 30 December 2002. President Mwai KIBAKI is now serving his second term in a UN-brokered coalision government with Raila ODINGA as Prime Minister having scored 46% and 44% respectively in the contentious December 2007 election.
Tourism: Kenya has a great collection of tourist attractions, and is perhaps one of the best known tourist destinations in Africa. Warm and dry climate, spectacular and scenic landscapes ranging from the Maasai Mara(Africa's greatest wildlife reserve and host to the world's greatest yearly migration of wildebeest), the white sandy beaches south of Mombasa along the indian ocean, and various national parks scattered all over the country to the Nairobi National museum where the history and culture of Kenya is well documented. Kenya is a must-go destination for anyone considering a sightseeing trip to Africa.
See country facts below: