AFRICAN HEADS
of State and Governments
ECONOMIC COMMUNITIES & AFRICA REGIONAL BODIES:
JAPAN AFRICA NETWORK'S TOP 10 DESTINATIONS:
Serengeti National Park (the great migration), Tanzania
Kruger National Park, South Africa
Pyramids, Giza Egypt
Rift Valley Lakes, Kenya.
Kalahari Desert, Botswana
Karnak Temple, Egypt
Table Mountain, S. A.
Atlas Mountain, Algeria
Djoudj National Park, Senegal
Goree Island, Senegal
CONTACT US: E-Mail!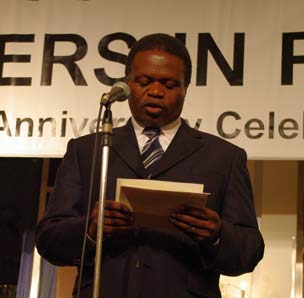 MR. Allan W. MBURU
Chargé d'Affaires ai Republic of Kenya to Japan
Our Country of the month of December 2009 is Kenya.
Happy Independence to Kenya, our African country of the Month; December 2009. Kenya fought hard and gained independence from Britain on 12 December 1963 under the liberation icon Jomo KENYATTA as the first President and became a republic the following year on 12 December 1964. Over the years, Kenya has earned a reputation as one of the best tourist destinations in Africa and Kenya's Diani Reef Resort is 2009 winners of the prestigious Amarula Best Retreat in Africa(a travel awards that celebrate and reward the rich diversity of retreats throughout Africa). On this occassion of the 46th independence day celebration, Japan Africa Network joins all Kenyans to celebrate. Read excerpts of the independence message by Mr Allan W. Mburu, Kenya Chargé d'Affaires, Japan below.
MESSAGE FROM MR. ALLAN W. MBURU CHARGÉ D'AFFAIRES AD INTERIM OF THE REPUBLIC OF KENYA ON THE OCCASION OF THE 46TH INDEPENDENCE DAY OF KENYA
Kenyans Set for a New Constitution that Promises a Bright Future
On 12th December 1963, Kenya attained her independence and broke away from the yokes of colonialism. Kenyans therefore mark with great pride the 46th anniversary when she joined the league of nations that enjoyed self rule. As we reflect on our history therefore, I wish to thank the Japan African Network for providing me with this opportunity on behalf of the Government and people of the Republic of Kenya to convey heartfelt greetings to Their Majesties the Emperor Akihito and Empress Michiko, for their role in promoting unity of the Japanese people. I also wish to congratulate them for their 50th Wedding Anniversary celebrated in April, this year and above all the 20th Anniversary of the Enthronement of His Majesty the Emperor. I trust Their Majesties will continue to enjoy good health and further wish for prosperity of the Imperial Household.
Let me also convey warm greetings to the most Honourable Prime Minister Mr. Yukio Hatoyama, the government and people of this great and friendly nation for the successive elections held in August that saw the Democratic Party of Japan (DPJ) secure a majority of seats thus enabling it form the government. It is my hope the agenda on change, the platform on which It is my hope the agenda on change, the platform on which DPJ secured victory will contribute towards addressing the myriad of challenges facing not only Japan but the global community. I believe that Japan will continue playing an active leadership role in reversing the adverse effects of climate change, threats to international security, attainment of Millennium Development Goals (MDGs) and strengthening the relationship between Japan and the African continent embodied in the TICAD IV Framework. I therefore seize this opportunity to applaud the pronouncement made by the most Honourable Prime Minister during the United Nations General Assembly in September this year regarding his governmentfs commitment to double Overseas Development Assistance (ODA) by the year 2012 within the TICAD IV Framework, a position echoed by the Minister of Foreign Affairs, the most Honourable Katsuya Okada when he addressed the African Diplomatic Corps in October. As a major beneficiary of ODA from Japan, Kenya will play her respective role in advancing the letter and spirit contained in the Yokohama Declaration of 2008.
Bilateral Relations
From a historical context, Kenya has maintained her strategic partnership with Japan for over four decades. In the recent past, our engagements have been marked by high level exchange visits such as those by Hon. Samuel Poghisio, Minister for Information and Communications who visited Japan in February to attend a workshop organized by the Government of Japan to discuss Peace and Security in the neighbouring Sudan followed by Hon. Ms. Cecily Mbarire, the Assistant Minister for Tourism in September to attend JATA 2009 and finally Hon. Dr. Sally Kosgei, Minister for Higher Education, Science and Technology who represented Kenya during the Science and Technology in Society Forum in Kyoto in October. These visits alongside others have promoted further collaborative efforts geared towards international security, promotion of trade and investment, science and technology and above all explored new areas of partnerships.
Let me also thank the Government of Japan for having sent a team composed of Members of the House of Councillors which visited three African countries, among them Kenya, in October to assess the efficacy of ODA. I am happy to note that the team reported sound ODA management in the countries they visited. I also wish to thank the Japanese public for their support to the African continent and assure them that Kenya values ODA from Japan that is playing a pivotal role in complimenting the governmentfs efforts towards reduction of poverty.
Our bilateral engagements have also realised mutual gains for both countries. The Joint Trade Mission which visited Kenya late last year consisting of government officials and Japanese investors provided a platform for exploring further prospects existing in Kenya. I therefore invite more to take advantage of the attractive business climate in Kenya supported by her geostrategic location, an educated and industrious labour force, a relatively developed infrastructure, well established banking system, a ready market within the region and a stable political climate.
......................
......................
The Future as Defined by Vision 2030
The Government has developed a Policy Planning document referred to as Vision 2030 which aspires to see Kenya become a middle income country by the year 2030 with an economic growth of 10%. In order to become a robust economy, key sectors such as tourism, agriculture, manufacturing, trade, information technology and financial services will need to provide the impetus for growth.
The overriding principle of Vision 2030 is one that produces a national psyche with Kenyans identifying themselves with and believing in it. The Vision takes into account the diversity in Kenya expressed by different cultures, religions, ethnic groups, races and geographic areas. It is expected that under Vision 2030, Kenya's economy will turn around and provide more opportunities not only to Kenyans but the international community under a globalized world. I therefore invite entrepreneurs from Japan to position themselves in order to boost further the trade relations between our two countries.
Finally let me take this opportunity to thank all those who have sent to us messages of goodwill and once again thank Japan African Network and wish its readers a happy festive season, good health and prosperity in the new year. Meanwhile, I invite you all to learn more about Kenya through our Mission website http://www.kenyarep-jp.com.