AFRICAN HEADS
of State and Governments
ECONOMIC COMMUNITIES & AFRICA REGIONAL BODIES:
JAPAN AFRICA NETWORK'S TOP 10 DESTINATIONS:
Serengeti National Park (the great migration), Tanzania
Kruger National Park, South Africa
Pyramids, Giza Egypt
Rift Valley Lakes, Kenya.
Kalahari Desert, Botswana
Karnak Temple, Egypt
Table Mountain, S. A.
Atlas Mountain, Algeria
Djoudj National Park, Senegal
Goree Island, Senegal
CONTACT US: E-Mail!
Mozambique: Our country of the Month, June 2010
Japan Africa Network joins all Mozambicans, friends and all Africans in diaspora to celebrate Mozambique's Independence day 25 June 2010. Congratulations on your historic independence anniversary; you are our African Country of the Month, May 2010.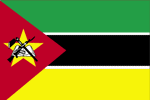 Flag of Mozambique
Mozambique gained independence from Portugal on 25 June 1975 under President Samora Machel; an independence hero, veteran guerilla freedom fighter and leader of the marxist FRELIMO - Front for the Liberation of Mozambique. FRELIMO initiated guerilla tactics and fought gallantly(September 1964 - 1975) to demand for an independent Mozambique from colonial ruler Portugal. Independence was finally achieved on 25 June 1975 following a coup in Lisbon which led to the withdrawal of Portugal. Today we salute all those heroes who paid the supreme sacrifice in the struggle for independence and the millions who lost their lives in the bitter and brutal civil war(1977 - 1992) between FRELIMO and the RENAMO(Mozambican National Resistance) sponsored and financed by the white minority government in Rhodesia and the apartheid South Africa; soon after independence.
Samora Machel, the war time president died in a plane crash on 19 October 1986 and was succeeded by Joachim Chissano who initiated reforms. He moved the country's ideology from socialism to capitalism, started peace talks with the RENAMO rebels and enacted the country's constitution in 1990 with provisions for multi-party politics and market based economy. With the help of Christian organizations and UN, he helped brought the war to an end in October 1992 which led to the return of about 1.7 million Mozambican refugees by mid 1995.
Mozambique has achieved improved government revenue collection through fiscal reforms, privatization of state-owned enterprises, the introduction of a value-added tax and reform of the customs service; registering 14.8% growth in 2001 and a projected 7-10% annual growth in the next decade. Though agriculture continues to employ the vast majority of the country's work force, the opening of the Mozal aluminum smelter, Mozambique's largest foreign investment project to date; and the taking over of Portugal's majority shares of the Cahora Bassa Hydroelectricity (HCB) company after years of negotiations for stakes in a dam that was not transferred to Mozambique at independence; Mozambique is set for increased export earnings and to generate more power for additional investment projects in titanium extraction and processing and garment manufacturing.

Mozambique has 2 500km coastlines and some of the the most stunning beaches and shorelines in Africa; its Bazaruto archipelago stands out as a must go destination for snorkelers and scuba divers; and the Gorongosa National Park is best recommended for safari. Most of the country's tourist infrastructures destroyed during the civil war are gradually being reconstructed. In 2005 tourism recorded a stunning 37% growth, the highest such in the tourism industry anywhere in the world. Thus with excellent tourism assets as game and nature reserves, beautiful sandy beaches, islands and national parks scattered all over the country in Gaza, Manica, Maputo, Quirimbas, Zambezia and others; Mozambique looks good to be a major destination in the near future.
See contry facts below:
Send a Message of Congratulations: Click!
COUNTRY FACTS: MOZAMBIQUE
Name

(official)

:
Republic of Mozambique
Name

(short)

:
Mozambique
Capital City:
Maputo
Location:
Click to enlarge
Map of Mozambique South Eastern Africa, bordering the Mozambique channel, between South Africa and Tanzania
Coordinate:
18 15 S, 35 00 E
Independence:
(From Portugal) 25 June 1975.
President:
Armando GUEBUZA (President),
Luisa DIOGO (Prime Minister)
Type of Government:
Republic
Total Area:
801 590sq.km.
Population:
22 061 451 (July 2010 estimate)
16 099 246 (1997 census)
People:
indigenous tribal groups 99.66% (Makhuwa, Tsonga, Lomwe, Sena, and others), Europeans 0.06%, Euro-Africans 0.2%, Indians 0.08%
Religion:
Catholic 23.8%, Muslim 17.8%, Zionist Christian 17.5%, other 17.8%, none 23.1% (1997 census)
Languages:
Emakhuwa 26.1%, Xichangana 11.3%, Portuguese 8.8% (official; spoken by 27% of population as a second language), Elomwe 7.6%, Cisena 6.8%, Echuwabo 5.8%, other Mozambican languages 32%, other foreign languages 0.3%, unspecified 1.3% (1997 census)
Literacy:
47.8%total, 63.5%male, 32.7%female (2003 est.)
Currency:
metical (MZM)
GDP

(per capita):

$900 (2009 est.)
$1 300 (2005 est.)
Arable Land:
5.43% (2005 est.)
Agriculture:
cotton, cashew nuts, sugarcane, tea, cassava (tapioca), corn, coconuts, sisal, citrus and tropical fruits, potatoes, sunflowers; beef, poultry.
Natural resources:
Coal, titanium, natural gas, hydropower, tantalum, graphite.
Embassy in Japan:
Embassy of the Republic of Mozambique,
Chancery: Shiba Amerex Bldg. 6F, 3-12-17, Mita, Minato-ku.
Post Code: 108-0073, Tel. 03-5419-0973/4, 03-5419-3656, Fax: 03-5442-0556
Embassy of Mozambique
General Info:
International Phone Code:
+258
Find out more about MOZAMBIQUE
CAMEROON: Country of the Month of May 1020
SENEGAL: Country of the Month of April 1020
GHANA: Country of the Month of March 2010.
Read:Ghana's 53rd Independence Day Speech
Country Facts: Ghana
GAMBIA: Country of the month of February 2010
KENYA: Country of the month of December 2009
Read: Kenya Independence Day Speech
Country Facts: Kenya
ANGOLA: Country of the month of November 2009
Read Angola Independence Day Speech
Country Facts: Angola
NIGERIA: Country of the month October