AFRICAN HEADS
of State and Governments
ECONOMIC COMMUNITIES & AFRICA REGIONAL BODIES:
JAPAN AFRICA NETWORK'S TOP 10 DESTINATIONS:
Serengeti National Park (the great migration), Tanzania
Kruger National Park, South Africa
Pyramids, Giza Egypt
Rift Valley Lakes, Kenya.
Kalahari Desert, Botswana
Karnak Temple, Egypt
Table Mountain, S. A.
Atlas Mountain, Algeria
Djoudj National Park, Senegal
Goree Island, Senegal
CONTACT US: E-Mail!
Mali: Our country of the Month, August 2010
Japan Africa Network joins all Malians, friends, wellwishers and all Africans in diaspora to celebrate 50th independence anniversary on 22 September 2010. Congratulations for 50 years of social and political stability, you are Japan Africa Network's, Country of the Month September 2010.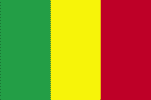 Flag of Mali
Brief History: Mali was at different times in history, part of three famed West African empires(Ghana, Mali, Songhai) which controlled trans-Saharan trade in gold, salt, slaves, and other precious commodities. The Mali Empire(which the country got its name from) reached the height of power in the fourteenth century. Under the Mali Empire, the ancient cities of Djenné and Timbuktu were centers of both trade and Islamic learning. But by 1905, most of Mali was already under French control as a part of French Sudan. In early 1959, French Sudan (later Sudanese Republic) and Senegal united to form the Mali Federation. The Mali Federation gained independence from France on June 20, 1960. But Senegal withdrew from the federation in August 1960, which allowed the Sudanese Republic to become the independent Republic of Mali on September 22, 1960. Modibo Keïta was elected the first president in 1960. President Keïta quickly established a one-party state and was overthroned in a bloodless military coup led by Moussa Traoré in November 1968. Another coup in 1991 led to a transitional government, a new constitution and a multi-party democratic election in 1992. Alpha Oumar Konaré won the presidential election and was re-elected in 1997. President Konaré pushed through political and economic reforms and fought corruption. In 2002, he was succeeded in democratic elections by Amadou Toumani Touré, a retired general, who was the leader of the 1991 military coup and later head of the transistional government. Today, Mali is one of the most politically and socially stable countries in Africa
Economy: Mali's key industry is agriculture with cotton being the country's largest export commodity. Mali has the third highest gold production in Africa (after South Africa and Ghana). Mali's economy has seen a recent 5% growth following sucesssful implimentation of an IMF- recommended structural adjustment program. But the country is still one of the poorest countries in the world depending largely on foreign aids and home remittances from Malians resident abroad.
Tourism: Mali's history is rich with colorful culture and tradition, music and dance, on display all year round. Some of the most famous tourist destinations in Mali are: Bamako, the capital city, the legendary city of Timbuktu (Tombouctou), the Grande mosque du Djenné(the largest mud -built structure in the world and a World Heritage site), the ever-lively port city of Mopti, the river Niger and the extra-ordinary falaise de bandiagara(a World Heritage site), full of scenic villages, unique architecture, and splendid cliffs located in the Dogon country. According to lonely planet.com "If you can visit one place in Mali, go to the Dogon Country: it's utterly unforgettable".
See country facts below:
Send a Message of Congratulations: Click!
COUNTRY FACTS: MALI
Name

(official)

:
Republic of Mali
Name

(short)

:
Mali
Capital City:
Bamako
Location:
Western Africa Click to enlarge
Map of Mali
Coordinate:
17 00N, 4 00 W
Independence:
(from France) September 22nd; 1960.
President:

Amadou Toumani Toure

(President since 08/07/2002)
Alpha Oumar Konaré (08/06/1992 - 08/06/2002)
Moussa Traoré (19/11/1968 - 26/03/1991)
Modiba Kéita (20/07/1960 - 19/11/1968)

Modibo Sidibe

(Prime Minister from 28/09/2007)

Type of Government:
Republic
Total Area:
1.24million sq.km.
Population:
13,443,225 (July 2010 est.)
People:
Mande 50% (Bambara, Malinke, Soninke), Peul 17%, Voltaic 12%, Songhai 6%, Tuareg and Moor 10%, other 5%.
Religion:
muslim 90%, indigenous belief 9%, christians 1%.
Languages:
French(official), 80% also speak Bambara, other local languages.
Literacy:
46.4%total, 53.5%male, 39.6%female (2003 est.)
Currency:
Communaute Financiere Africaine franc
(1CFAF= 100centimes)
GDP

(per capita):

$1 200 (2009 est.)
Arable Land:
3.76% (2005est.)
Agriculture:
Corn, cotton, millet, cattles, sheep, goats,rice, vegetables, peanuts.
Natural resources:
Uranium, gypsum, gold, phosphate, kaolin, salt, limestone, granite, hydropower.
The unexploited areas include:bauxite, iron ore, manganese, tin and copper.
Embassy in Japan:
Embassy of the Republic of Mali,
Chancery: 3-12-9, Kami-Osaki, Shinagawa-ku.
Post Code: 141-0021 Tel. 03-5447-6881

General Info:
International Phone Code:
+223