AFRICAN HEADS
of State and Governments
ECONOMIC COMMUNITIES & AFRICA REGIONAL BODIES:
JAPAN AFRICA NETWORK'S TOP 10 DESTINATIONS:
Serengeti National Park (the great migration), Tanzania
Kruger National Park, South Africa
Pyramids, Giza Egypt
Rift Valley Lakes, Kenya.
Kalahari Desert, Botswana
Karnak Temple, Egypt
Table Mountain, S. A.
Atlas Mountain, Algeria
Djoudj National Park, Senegal
Goree Island, Senegal
CONTACT US: E-Mail!
Nigeria: Our country of the Month, October 2010
Japan Africa Network joins all Nigerians, friends, wellwishers and all Africans in diaspora to celebrate 50th independence anniversary on 1 October 2010. Congratulations for 50 years of social and economic growth, you are Japan Africa Network's, Country of the Month October 2010.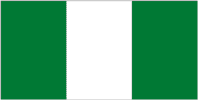 Flag of Nigeria
Brief History: History shows habitation dates back to 9000 B.C. Nigeria, (coined by Flora Shaw who later became wife to the colonial administrator, Lord Lugard) got its name from the River Niger that runs through the country.
The 1st European arrivals were Portuguese, they traded with the port cities of Lagos and Calabar. These trades soon expanded into slave trades. Between 1885 and 1900, the British empire has consolidated their hold on areas making up present day Nigeria. On 1 January 1901 Nigeria became a British protectorate(or part of British Empire). Due to resistance from the locals, the area was ruled as Northern, southern Protectorates and the Lagos colony until 1914 when they where amalgamated into what we now know as Nigeria. Following consistent struggle and demands for independence, Nigeria got independence from Britain on 1 October 1960 with Dr Nnamdi Azikiwe of the National Council of Nigeria and the Cameroons(NCNC) as the 1st Governor-General. The country later declared itself 'Federal Republic of Nigeria' in 1963 making Dr. Nnamdi Azikiwe the 1st President of the republic and Sir Abubakar Tafawa Balewa(of the NPC - Nigerian People's Congress) as the 1st and last Prime Minister.
Nigeria fought a 30 month civil war between 6 July 1967 and January 1970 following the declaration of independence of the Republic of Biafra by the Igbos, under the leadership of Lt. Colonel Emeka Odumegwu Ojukwu in May 1967 due to percieved injustices. With the war being lost and won, Nigeria again became one nation under the doctrine of 'no winner no vanquish' declared by the head of state Lt. Colonel Yakubu Gowon.
In the past 50 years Nigeria has withnessed series of military coups, first on -- January 1966, led by Major Emmanuel Ifeajuna and Chukwuma Kaduna Nzeogwu which led to a change in government with Lt. General Aguiyi Ironsi as the new head of state. A counter coup was successfully carried out same year leading Lt. Colonel Yakubu Gowon to be the new head of state. This marked the beginning of military interventions in Nigerian politics as Gowon was later ousted in another military coup. The present civilian government is headed by President Goodluck Jonathan who became president on 6 May 2010 following the death of President Umar Yar'Adua on 5 May 2010.
Economy: Crude oil export accounts for about 85% of Nigerian government foreign exchange income with Nigeria being the world's 8th largest exporter. Nigeria also has the world's 10th largest proven crude petroleum reserves and one of the world's fastest growing telecommunication markets. About 60% of Nigerians now work in agriculture which was the main foreign exchange earner before the discovery of crude oil and gas in the country. Nollywood, the Nigeria film/video industry is currently the world's second largest producer of movies.
Tourism: The national sports in Nigeria is football(soccer). Tourist destinations include the Yankari game reserves, Mambilla plateau, Obudu ranch and resorts, museums and national parks spread all over the country, the Ikogosi warm springs, clean beaches in Lagos, Port Harcourt and Calabar etc.
Nigeria at a glance: - Most populous in Africa 150m - 8th most populous in the world - 1 of every 6 black people in the world is Nigerian - listed as one of the next eleven economies with an economic growth rate of 9% in 2008, 8.3% in 2009 - 3rd largest economy in Africa - largest exporter of crude oil in Africa - An African regional power
See country facts below:
Send a Message of Congratulations: Click!

COUNTRY FACTS: NIGERIA
Name

(official)

:
Federal Republic of Nigeria
Name

(short)

:
Nigeria
Capital City:
Abuja
Location:
West AfricaClick to enlarge
Map of Nigeria
Coordinate:
10 00 N, 8 00 E
Independence:
(From Britain) October 1st, 1960
President:

Dr Goodluck Jonathan

President from 6 May 2010 - date
(Acting President 9/2/2010 - 6/5/2010, V.P. 29/05/2007 - 09/02/2010

Namadi Sambo

(V.P. from 19 May 2010 - date)
Alhaji Umaru Musa Yar'Adua
(President 29/05/2007 - 05/05/2010 Died in office due to sickness paving way for the Jonathan presidency)
Chief Olusegun Obasanjo (President May 1999 - May 2007)
Alhaji Abubakar Atiku (V.P. May 1999 - May 2007)

Type of Government:
Presidential democracy
Total Area:
923 768.64sq.km.
Population:
154.7million (July 2009 UN est.)
140 003 542 (2006 national census)
People:
Nigeria, Africa's most populous country, is composed of more than 250 ethnic groups; the following are the most populous and politically influential: Hausa and Fulani 29%, Yoruba 21%, Igbo (Ibo) 18%, Ijaw 10%, Kanuri 4%, Ibibio 3.5%, Tiv 2.5% .
Religion:
muslim50%, christian40%, indigenous beliefs 10%
Languages:
English(official), Hausa, Yoruba, Igbo(Ibo), Ijaw, Ibibio, Ogoni,..
Note: Most ethnic groups have their own languages.
Literacy:
68%total 75.5%male,60.6%female(2005 est.)
Currency:
Naira (1naira=100kobo)
GDP

(per capita):

$1 400(2005est.)
Arable Land:
33%
Agriculture:
Groundnuts, Cocoa beans, Rubber, Gum Arabic, Kola nuts, Beniseed, Cotton, Soybean, Palm kernel, Cashew nuts, Cassava, Yams, Melon, Maize, Millet, Sorghum, Cowpeas, Bananas (plantains included) Palm oil,Tobacco.
Natural resources:
Petroleum,oil and gas,talc,gypsum,iron ore,lead,zinc bentonite,baryte,gold,bitumen,coal,rocksalt,gemstones
Embassy in Japan:
Embassy of the Federal Republic of Nigeria, Chancery: 3-6-1, Toranomon, Minato-ku. Post Code: 105-0001 Tel. 03-5425-8011
Nigeria Embassy, Japan
General Info:
Heart of Africa
International Phone Code:
+234
Watch Video: Nigeria 50th Independence Day Party, Japan

Find out more about Nigeria