JAPAN AFRICA NETWORK'S TOP 10 DESTINATIONS:
Serengeti National Park (the great migration), Tanzania
Kruger National Park, South Africa
Pyramids, Giza Egypt
Rift Valley Lakes, Kenya.
Kalahari Desert, Botswana
Karnak Temple, Egypt
Table Mountain, S. A.
Atlas Mountain, Algeria
Djoudj National Park, Senegal
Goree Island, Senegal
Africa
Listed below are the 53 countries of Africa. Click on any country of your choice to see the African country maps and flags, facts, news, business, trade and investment leads; government institutions and administrative units, tourist attractions and the major cities in the country.
Algeria Angola Benin Botswana Burkina Faso Burundi Cameroon Cape Verde CentralAfricaRep. Chad Comoros Congo Congo,D.R. Cote d'Ivoire Djibouti Egypt Equatorial Guinea Eritrea Ethiopia Gabon Gambia Ghana Guinea Guinea Bissau Kenya Lesotho Liberia Libya Madagascar Malawi Mali Mauritania Mauritius Morocco Mozambique Namibia Niger Nigeria Rwanda SaoTomePrincipe Senegal Seychelles Sierra Leone Somalia South Africa Sudan Swaziland Tanzania Togo Tunisia Uganda Zambia Zimbabwe
Click! See the largest Map of Africa on the internet!!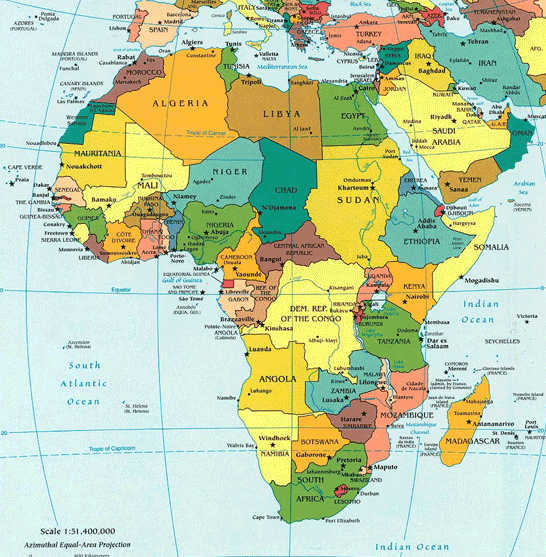 CIA Country Map of Africa, Click to enlarge!
Official Name: Japan
Short: Japan
Local long form: Nihon-koku/Nippon-koku
Local short form: Nihon/Nippon
Capital City: Tokyo
Location: Eastern Asia, island chain between the North Pacific Ocean and the Sea of Japan, east of the Korean Peninsula
More .Japan. Info
To search for information on any Country of Africa or Japan.
Enter Country Name!
Or Choose a destination from the countries below for the country facts, news, business links, tourism information, government institutions and administrative units and country related informations.